2008 Porsche Cayenne
Exterior

Crystal Silv...

Interior

Black Leathe...

Mileage

100,019

Price
$19,999
2007 Porsche Cayman
Exterior

Carrera White

Interior

Stone Grey L...

Mileage

38,925

Price
$25,999
2006 Porsche Boxster
Exterior

Basalt Black...

Interior

Black Leathe...

Mileage

62,391

Price
$21,999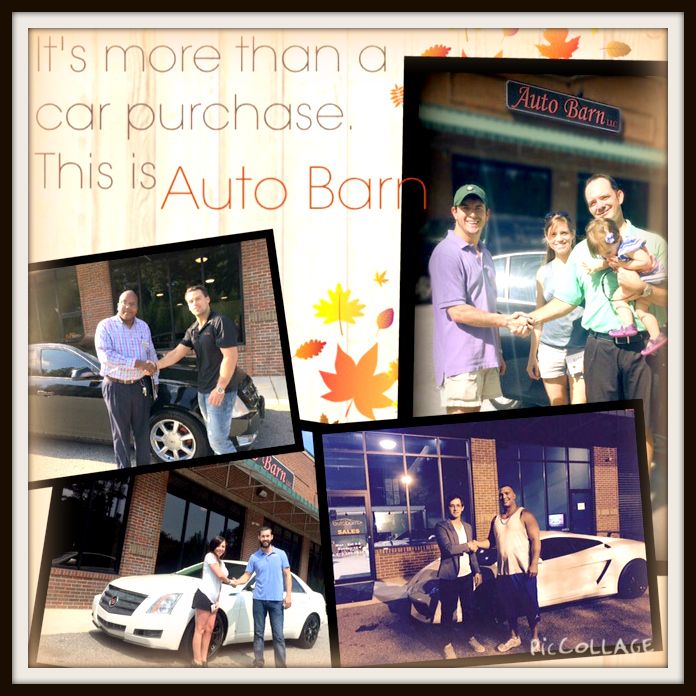 First off, thank you for choosing Auto Barn LLC.

We are proud to serve our community and country by changing the overall infamous perception of the slimy "used car dealer" label that this industry has carried for so many decades. What makes us stand out is our diverse inventory selection from Ford all the way to Ferrari, we have it all. Our massive service department allows us to offer ASE certified inspected and serviced vehicles, without the upcharge. This allows us to ensure you've received a quality vehicle you and your family can count on. Despite having the best used vehicles on the market, we also offer them at outstandingly competitive prices that will be sure to fit your budget. Just like every vehicle is different, we understand that the same goes with every person and family regarding their taste, standard of imperfections, and of course their finances. Auto Barn LLC has strived to be #1 in the region with our top shelf lenders to guarantee you with the lowest rates on the market, regardless of a vehicles age. With the lowest rates on the market, a more superior quality of inventory, and the most diverse selection out there, it is no wonder we have been labeled time and time again as "The One Stop Shop."


When purchasing a vehicle in great condition, we want to make sure you keep it that way, despite what nature throws at it. That's why we offer superb extended warranties that can be used anywhere in the country, giving you the peace of mind knowing that you are covered. As an Auto Barn LLC customer, you will receive 10% off all services and routine maintenance performed to your vehicle at our facility for as long as you have the vehicle. We offer a variety of different service plans the suit your vehicle's needs. We want to reward you for not only being a valued customer of ours, but for also taking care of your vehicle. Years down the road when you are looking once again to replace your vehicle, we want to offer you an outstanding trade-in offer on the vehicle you previously purchased from us, especially if you have been maintaining it throughout the years.
From the moment you walk into our dealership, you are greeted by an educated staff that are not commission driven and allow you to utilize their expertise to find the exact vehicle that matches your needs, wants, and budget. Can't make up your mind between a few vehicles that you have narrowed it down to? Buy a vehicle today and we will give you two days to swap out with a different vehicle on the lot! Our goal I simple. To win you as a customer for life, not slam any vehicle we can down your throat regardless of whether or not it suits you and your family's needs. We aren't like that. That is why we do not motivate our sales staff with commission, but instead offer full time salaries for their expertise and devotion to making your buying experience tremendous in every way. If you are not satisfied with your experience or service and our staff is at fault, contact a manager and they will personally insure you get 2 years of free oil changes with us for your vehicle. This is Auto Barn LLC, your dealer for life. Now, click on the "Inventory" tab and start having fun browsing through our fabulous selection. Call our experts for additional information on a vehicle if you cannot find it handy on our website. They will be more than happy to assist you. Once again, thank you for choosing Auto Barn LLC!
Hours of Operation
Pre Owned Inventory Sales
Mon - Sat

9:00 AM - 9:00 PM

Sunday

12:00 PM - 4:00 PM
Service
Mon - Fri

9:00 AM - 6:00 PM

Saturday

9:00 AM - 4:00 PM

Sunday

Closed